Christmas is one of the biggest and most important festivals of the Christian year, when we celebrate the miracle of God becoming human and experiencing life through our eyes.
For we do not have a high priest who is unable to sympathise with our weaknesses, but we have one who in every respect has been tested as we are, yet without sin.

Hebrews 4:14-15 (NRSV)
Advent, the four weeks leading up to Christmas, is a time of reflection, prayer, meditation and preparation in which we are all encouraged to spend time watching and waiting for the Christ-child.
Christmas is for everyone – the whole of humanity, of any age. All of our Christmas services are open to anyone, and will also be streamed online and available to watch back later for anyone who can't make it in person. We would be delighted if you would join us, whoever and wherever you are.
If you are new to church this is a great time of year to get involved and find out what we're all about. If you would like to learn more, you might want to consider joining us for Pints of View, Thank God It's Friday.
You can also find out more about Christmas and the Christian Faith on the Church of England website, or get in touch with us directly – we'd love to hear from you.
---
Our Christmas services
Sunday 10 December
4.00 pm
Messy Church Christingle
Get ready for Christmas and build your own Christingle with Messy Church, followed by a short, informal service where we light the candles and explore the meaning of these symbols.
Everything you need is provided, and everyone is invited to join us no matter their age.
Sunday 17 December
6.00 pm
Festival of Lessons and Carols
The annual celebration of the Christmas story in words and music, in this traditional carol service.
St Mary's Church Choir sing arrangements of new and traditional carols, mixed with more popular carols for everyone to sing.
The lessons (bible readings) are read by members of the local community.
There are festive refreshments in the Community Centre after the service – tea, coffee, mulled wine and mince pies. Everyone is welcome at this very popular Christmas service.
Sunday 24 December
5.00 pm
Crib Service
The perfect Christmas service for the young and the young at heart. Join us as we journey through the Nativity story on Christmas Eve, singing some of our favourite carols along the way.
Everyone is invited to join in, and even to dress up as Nativity characters to help us tell the story of Jesus' birth.
Monday 25 December
10.00 am
Christmas Day Eucharist with carols
---
Advent Book 2023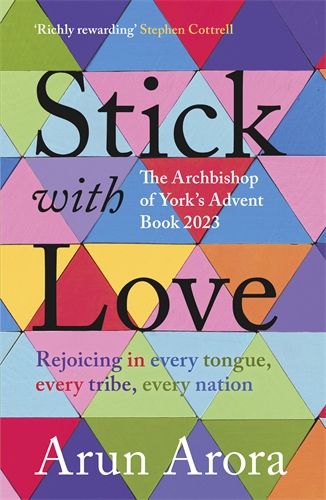 The Archbishop of York's offical Advent Book for 2023 has been written by the Bishop of Kirkstall, Arun Arora, in whose area our parish falls.
Martin Luther King famously declared that 'I have decided to stick with love . . . Hate is too great a burden to bear'. In these luminous daily readings, Arun Arora helps us consider the biblical picture of the Church as the people of God, drawn from every tribe, every tongue and every nation.

Themes of racial justice, hospitality and welcome are explored alongside the stories of saints from across the globe. Beginning with reflections from Isaiah and Revelation, the meditations lead us on to consider the missionaries, martyrs and mystics who light our Advent way.
You can purchase a copy from all good bookshops, or directly from the publisher.
---
The Real Advent Calendar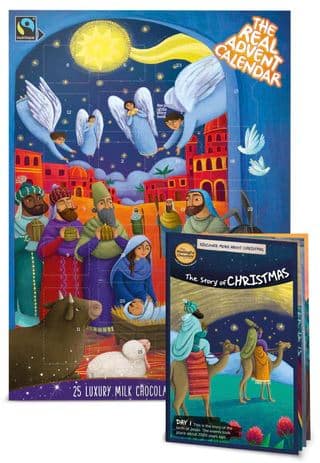 The Real Advent Calendar is the UK's only Fairtrade Advent calendar which comes with a 24 page Christmas story-activity book.
The 2023 Real Advent Calendar is a fun way for parents, grandparents and godparents to share the Christmas story. There is a Fairtrade Chocolate and a line of the Christmas story behind each of the 25 windows. The acoompanying book has a page for every day of Advent, expanding on the Christmas story and including some fun challenges.
The Real Advent Calendar is made using Fairtrade chocolate – giving producers a fair price and a cash bonus. Money raised from the sales of the calendar will also help provide care and support for mums and new babies in African villages supported by the Funzi and Bodo trust.
You can buy the Real Advent Calendar directly from the Meaningful Chocolate Company, as well as other selected online retailers. It is not available in shops.
---