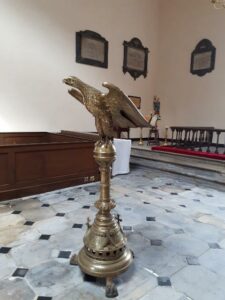 It all started with a 'golden eagle', fondly known to some older members of the congregation of St Mary's Whitkirk as 'the brass budgie'. The story of this imposing bird begins with the re-ordering of our church building back in 1980. Bearing God's Word on his back, he has stood proudly in various places in our church, originally perched in the Sanctuary but latterly finding himself – in very reduced circumstances – in pieces in a cupboard in the base of the tower. After the re-ordering there just wasn't a safe place for such a large lectern to stand and so he stayed in his dark cupboard, gathering dust and forgotten by most.
Now the story moves to Ripon Cathedral where the Precentor, the Reverend Canon Paul Greenwell, was moving on to pastures new, namely The Charterhouse, Hull where he was to take up his appointment as Priest Master of this Almshouse where, for 700 years, men and women from Hull (not the same ones!) have been housed as 'a community and a family which has Jesus at its centre and its heart'.
It was in a chance chat with Joan Williams and Giles Taylor, in their capacity as St Mary's Ambassadors to Ripon Cathedral, that we heard of the Georgian chapel at the Almshouses which was in need of a lectern. Well, we just had one to spare and with the help of Canon Matthew and the Parochial Church Council permission was gained to gift our banished 'golden eagle' to the Almshouses so that he could once more proudly carry the Word of God, this time for the people of Hull.
Ever ready for a chance to celebrate and socialise together, a coach trip was planned to visit The Charterhouse to see the brass lectern in its new home but, as with so many plans, this had to be 'shelved' as the country went into lockdown… Moving on to 9.00 am 'ish' on Saturday 30th July 2022, a coach-load of happy people from Whitkirk set off to finally be re-united (if briefly) with our old friend 'the brass budgie'.
Our first stop was Beverley Minster, that beautiful Gothic church, well worth a visit if you have never been. There, we met up with the Reverend Canon Paul Greenwell who presided at a Eucharist following which we had free time in Beverley for lunch and a wander around the town (it was market day!).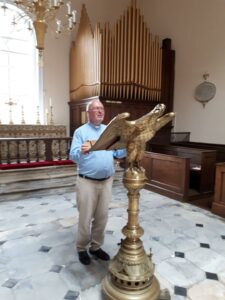 Then, back to the coach (fairly on time!) for our onward journey to The Charterhouse where we were welcomed most warmly to this amazing place, a haven in the more mundane surroundings of Hull. We were invited into the Chapel where our brass eagle lectern stands in pride of place in the middle of this original Georgian place of worship and Canon Paul gave us a history of The Charterhouse which was such a privilege to hear in the Chapel which had such an atmosphere of times past and years of worship and thanksgiving in this Christian community. In fact, such was the atmosphere that from the box pews where I sat I could almost imagine a congregation in Georgian dress looking up at the preacher who stood in the pulpit high above them, added to which we were treated to Giles playing the Chapel's pipe organ which gave an evocative ending to our time there.
I, for one, could have listened longer to such interesting history and to the playing of the organ but the community were waiting to offer us their hospitality with a strawberry tea in the community hall, very welcome and very delicious. Many thanks to Canon Paul and the Community at The Charterhouse for making us so welcome.
Thanks also to Joan and Giles of our Social and Events Team for organising this very enjoyable trip and of course to Blue Sky Coaches for looking after us so well.
More of the same please!