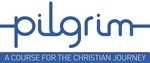 "PILGRIM – an exploration into the truth of the Christian faith as it has been revealed in Jesus Christ and lived out in his Church down through the centuries."
A pilgrim is a person on a journey, often a journey to find out more about God. The Pilgrim course is designed to help us travel that journey together in a small group, sharing our reflections on bible passages and our attempts to answer difficult questions.
Interested? Email Matthew.
---
The Pilgrim promotional video can be found below.