Remembrance Sunday
For the last century we have led the annual Act of Remembrance at the War Memorial on Selby Road, bringing the community together to grieve for those who were lost, to remember the horrors they went through and the mistakes that led to war, and to thank God for the peace we now enjoy.
2020 has been a challenging year for us all and our ability to meet together safely has been limited, but we still marked Remembrance Sunday as a community.
This year we held our Act of Remembrance online, and you can watch it here:
View the order of service online or download the order of service.
For anyone who can't get online, both the Sunday Worship and Act of Remembrance are available to listen to via telephone by calling 0113 467 6777 (calls are charged at usual local rate). The services are also available on YouTube and can be found on most smart TVs by searching for "St Mary's Church, Whitkirk". If you know anyone that would appreciate this, please share this information with them.
---
Throughout history the lives of the people of East Leeds have been intermittently disrupted by warfare. From William the Conquerer's "Harrying of the North" in 1069-70, which massacred the population and left the land here waste; through the Civil War in which a major battle was fought near Seacroft; to the 20th Century, the bloodiest century in human history, with two world wars stealing two generations and irreparably changing the lives of those left behind.
The church of St Mary at Whitkirk has stood at the heart of this community for 1,000 years, leading the community in prayer and worship, and providing fellowship and support for those who have needed it.
---
War Memorials
We have a number of war memorials listing those who died in both the First and Second World Wars. Unusually, our memorials also include several women from the parish who were killed just down the hill at the Barnbow Munitions Factory, which suffered a massive explosion in 1916. (You can read more about the Barnbow disaster here.)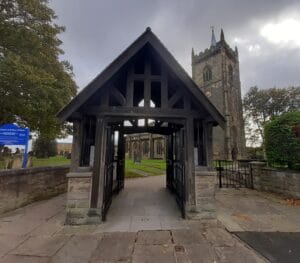 Our Lychgate is a scheduled war memorial and lists the names of those who died in both World Wars. The wooden timbers come from decommissioned Royal Navy ships, and some of the stones come from six war-damaged buildings. You can find more information about it, including a full list of the names, here.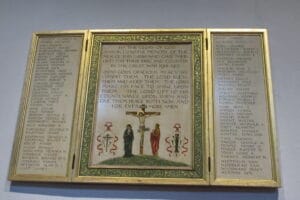 Inside the church, on the south wall, there is a painted triptych from the 1930s depicting the Crucifixion, with the names of those who died in World War 1 on the two sides. This was restored in 2015. You can find more information about it, including a full list of the names, here.
Outside, in the churchyard and cemetery we have five Commonwealth war graves.