Weeknotes are a short summary of what the Tech Team here at St Mary's has been up to in the past seven days. We keep them as a way of sharing what we've been up to, as well as summarising our own progress on things.
Oh no!
We kicked off our Sunday Eucharist with a bit of an audio glitch – read about what it was and how we solved it.
Ash Wednesday
We made a brief return to pre-recorded services for Ash Wednesday, for the first time this year.
As part of this, we recorded a number of hymns and sung responses, which helped inform some of our plans for longer-term positioning of microphones in the building. It turns out that organs are really difficult to capture on their own, and this has some implications for how we plan to capture ambient congregational noise alongside the instrument itself once we return to in-person worship.
Cameras Project
As our Cameras Project continues we've been planning to move some equipment and wiring around the building. This poses a few tricky problems in a place where anything permanent needs to go through a sometimes complex and lengthy approvals process, and since it isn't strictly speaking part of the work of installing the cameras we need to make sure whatever we do is temporary.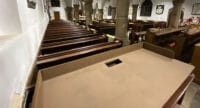 The first step in this was creating a bespoke temporary desk which fits over and around our existing furniture, giving us a single place to control all the technology in the building from, both existing and in the future.
We've also shuffled around some of the many bits of wiring in the back corner, to make them tidier, simpler and more robust.