It's been another week of technology here at Whitkirk. Here's what we've been up to
Better order of service redirections
One thing we've been stuck doing manually each week is updating our "redirect to latest order of service" URL so that it actually went to the right place. We use this link for the QR Code in the church which points people to the order of service, so it's important that it's right.
We've now automated this process, so it's one fewer thing to have to remember.
Buzz off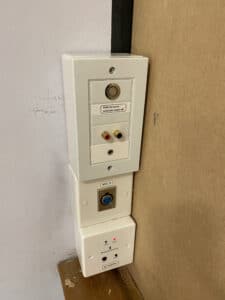 Over the past few weeks an annoying buzzing sound has crept into the speakers in the Community Centre. We spent a bit of time fixing this (and tidying up some cables), but also took the opportunity to improve power management and connectivity.
To help save energy, our sound system is now on a timed power supply. A push-button switches the whole thing on for a few hours – plenty of time for bookings to make use of the speakers and hearing loop – and then it'll turn itself off to help conserve energy.
As part of this we also added a new phono input and an additional 3.5mm jack input, giving more flexibility for our users.
Prepare for ludicrous speed!
The lovely people at Openreach have finally switched on the ability for us to get fibre-optic cables run right into our Community Centre. This isn't just about improving our internet speed (although we'll certainly enjoy a speed boost), but also about making sure that we're on more resilient digital infrastructure in the future.
We're confident that we'll be moving to this fibre-optic connection some time in the near future, but we're still not sure exactly which provider and package we'll be using. This last week we spent some time looking at options and putting together recommendations.